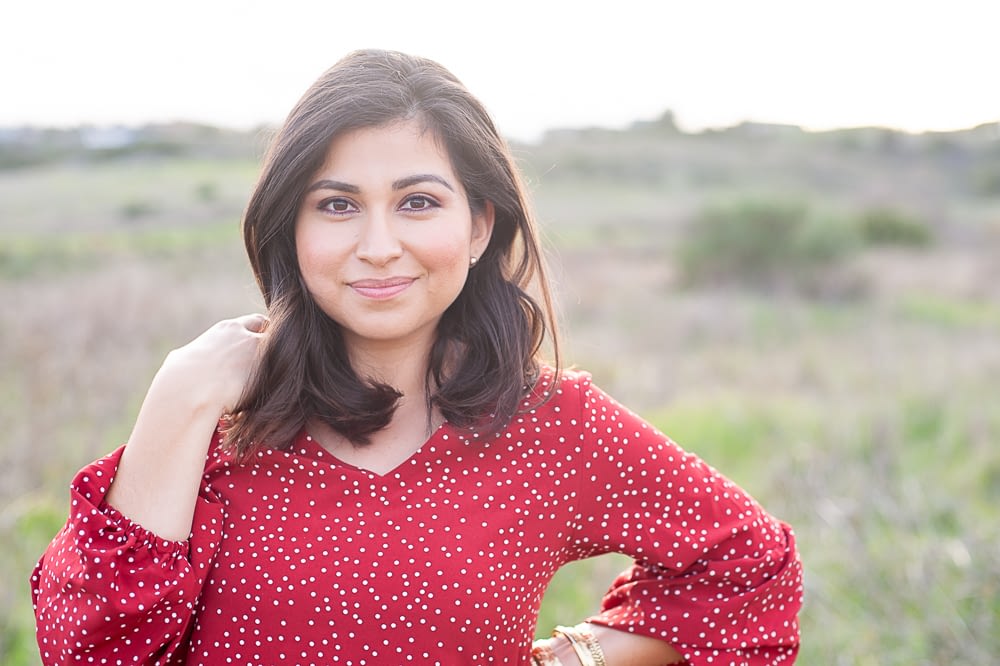 It's day 3 of our posing guide! And this one is a special one – JUST for THE GIRLS! So sit down with a cup of coffee or tea because this is going to be an IMPORTANT ONE! 
Let's start with this… we ALL want to look gorgeous in front of the camera. Undoubtedly, we are more likely than the guys to throw all the stops for this one single portrait session – our engagement session. Why not? Realistically, how often do we get all dolled up for a reason beyond just going out to dinner? I say DO IT! Absolutely, don't hesitate to pamper yourself and even say "YES" to that dress that you've been eyeing for the longest time!
But, the rest is where we are the most anxious about. Being in front of the camera is probably the one place we are most afraid to be. Unless you're a beauty queen and the camera just loves you, it's hard to trust people easily and be comfortable in front of the camera. 
In all honesty, that's how I am! But let me assure you, with these few tips, you feel extra comfortable in front of the camera. Why? Because you'll have a small arsenal of knowledge of what to do in front of the camera every time! Heck, you can also use these tips on a daily basis – whenever you might feel like taking a selfie! 
Day 3 of our posing guide isn't just about a single pose. This will cover the basic "HOW TO" to look awesome –  on that special day of your engagement portrait session! But before we go forward… 
LET'S START WITH SOME TRANSPARENCY
Part of our booking process is to send out a questionnaire to answer. One of the questions – a very essential one – asks what part of you are you most self-conscious. For the most part, this question is for me, specifically, because I want to keep those things in mind as I'm taking photos. 
Generally, most women have said "my belly", "my arms" or "my double chin" as an answer to that specific question. And next to "I like the right side of my face better than my left", all those other concerns are what typically makes us the most self-conscious! 
Hence, when asked that question by your photographer, BE TRUTHFUL!!  And I say this because it's really our job to make you – the client – feel the most comfortable in front of the camera. It's our job to flatter you! 
Realistically.. we can only do so much – albeit quite a lot! You also need to do your best to look your best! So with these few tips, you'll have all you need to look the best in front of any camera. And this will even apply to selfies or a quick photo with you and your man!
So let's get started with all that I want to share for day 3 of our posing guide! It's going to be a lot of fun! 
PICK THE RIGHT CLOTHES FOR YOU!
Unquestionably, this is THE MOST ESSENTIAL tip in all of this posing guide. It's THE MOST IMPORTANT advice for all portrait sessions.
The clothes you wear can bring attention to parts you want to highlight and also draw attention away from parts you want to hide. It can hide sore spots or highlight your strengths. Therefore, the right outfit can either make you feel and look confident, or make you awkward and uncomfortable.
Therefore, my first tip is, wear something that makes you comfortable and confident! Don't wear something that you have to adjust every moment or make sure you're covering up. Because your worry about your clothing will show in the photos.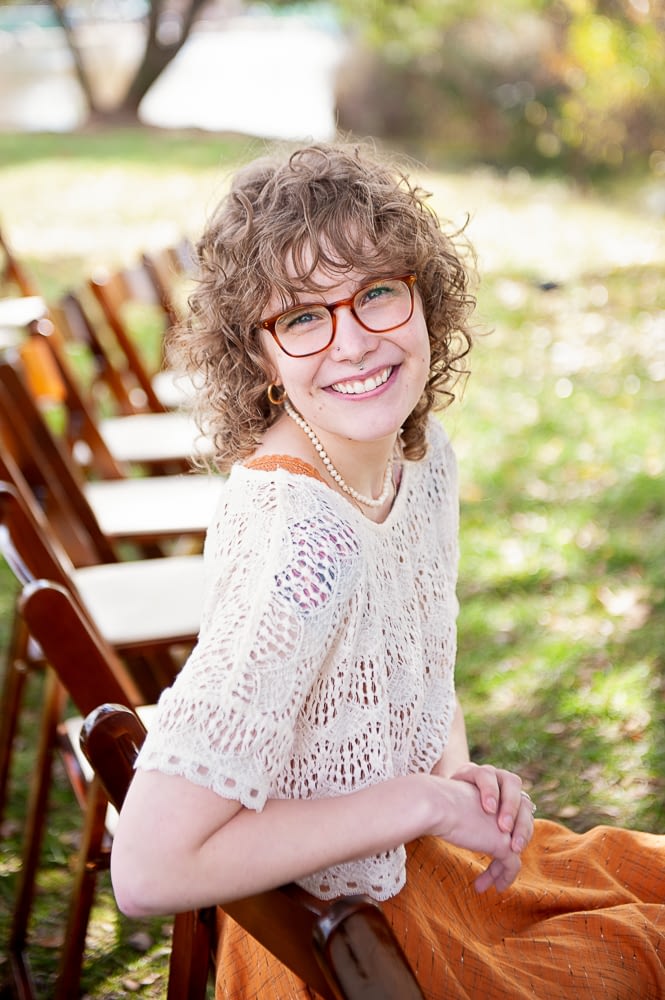 To be specific, those who don't have the most confidence in their arms – or the size of their arms – it's the best to wear sleeves that flatter vs. being fully exposed. Like the beautiful woman to the right, wear a dress or top with detailed or flutter-sleeves. With these sleeves – bubble, flutter, laced sleeves –  for sure you'll have nothing to worry about in terms of your arms! 
After all, trends have changed! These days, lace sleeves, bubble sleeves and shawls seem to be in!!! Not to mention – the wedding dresses these days have the most beautiful long-sleeve/sleeved details!
Tip #2.. FOR EVERY.... SINGLE.... POSE
MAKE SURE THERE IS SPACE BETWEEN YOUR ARMS AND YOUR BODY...
For any posing, even beyond this day 3 of this posing guide – selfies, everyday photos – if you want your arms more slender, remember to open your arms a little. Give your armpits a little air… JUST OPEN THEM UP AND LEAVE SPACE – A LITTLE – AND IT'LL MAKE A WORLD OF A DIFFERENCE!
Why, because when your arms are plastered to/against your body, your arms tend to spread. But, leaving space between your arms and armpits not only causes your to flex your muscles a bit, but it also creates more curvature.
For example above – although the difference is subtle, you can tell a slight difference between the size of her arms from the photo on the left and right. It's subtle, but clear that the photo on the right is slightly more slender than the left
Always find something to do with your hands...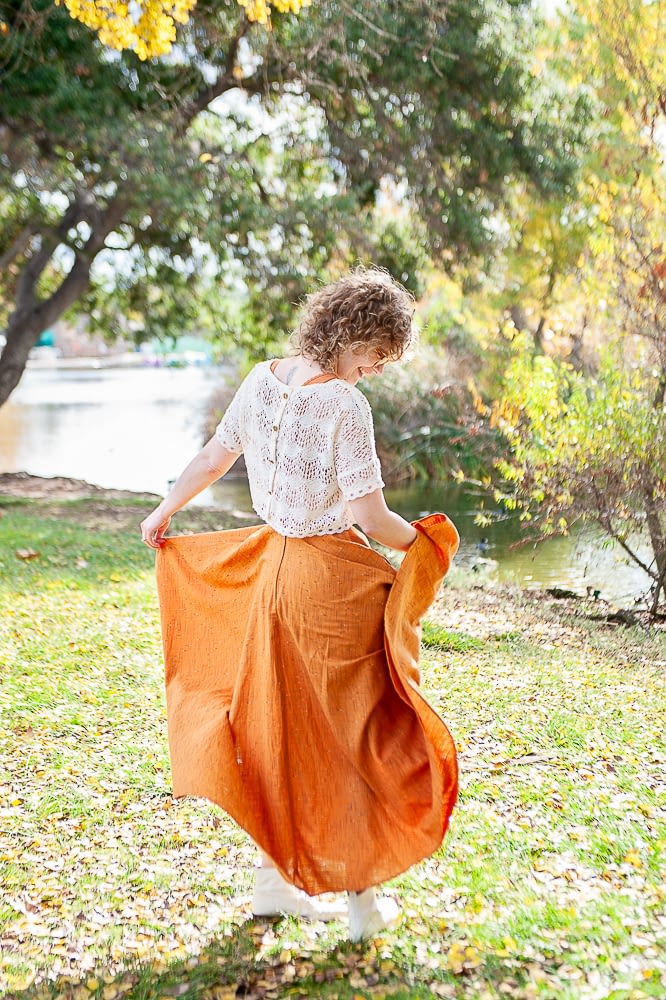 GRAB YOUR DRESS…
PLAY WITH YOUR HAIR…
BRUSH YOUR HAIR AWAY,
PLAY WITH YOUR NECKLACE
Find something to do with your hands. Whether it is to run it through your hair, pull on your necklace, play with your earrings, pull at your hat, pull up your dress while you walk or swish your dress, make sure your hands are doing something ALWAYS. Definitely better than just putting your hands at your side – like a statue.
An awesome AND very applicable posing tip for anytime..
How to hide your MID-SECTION
This is a great time to review what you've learned in the past two days. The poses from Day 1 & 2 of our 5-day posing guide are PERFECT WAYS of hiding that mid-section – with help from your significant other.
To recap, what are those poses again?

1. Belly to Belly
2. Split at the chest, down the middle
Both of these techniques are prefect for covering up – but only really works with a bit of help. So how does one do it by yourself?
Here's the tip – it's a three part technique because it involves placement of the feet as well!
Let's start at your hips...
THE MOST FLATTERING INDEPENDENT POSE FOR A GIRL!!
This photo to the right is the absolute perfect example of the "Feet 45° Waist Twist". 
In all literal terms, place your feet 45° from the camera. Pop the knee closest to the camera, hands at your hips (or have your hand away from the camera brush hair away), and twist at the waist – as much as you can!!! The more twisting, the more slender your figure will look!
This beautiful women not only did the perfect leg pop and twist 👏, she is also engaged the camera by leaning forward just a smidge. Engaging the camera is one of the "must do's" on my list – it actually flatters the jawline really well!
Therefore… this pose actually takes care of 3 major aspects of posing when we have parts of our body that we may be self-conscious about!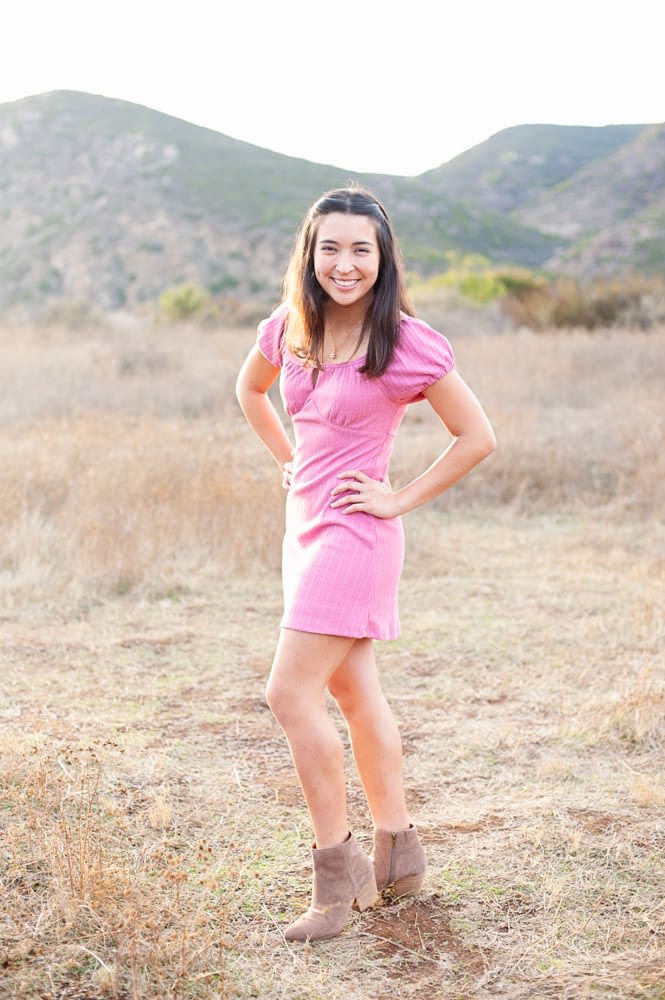 OR... if you're worried about not twisting and popping right...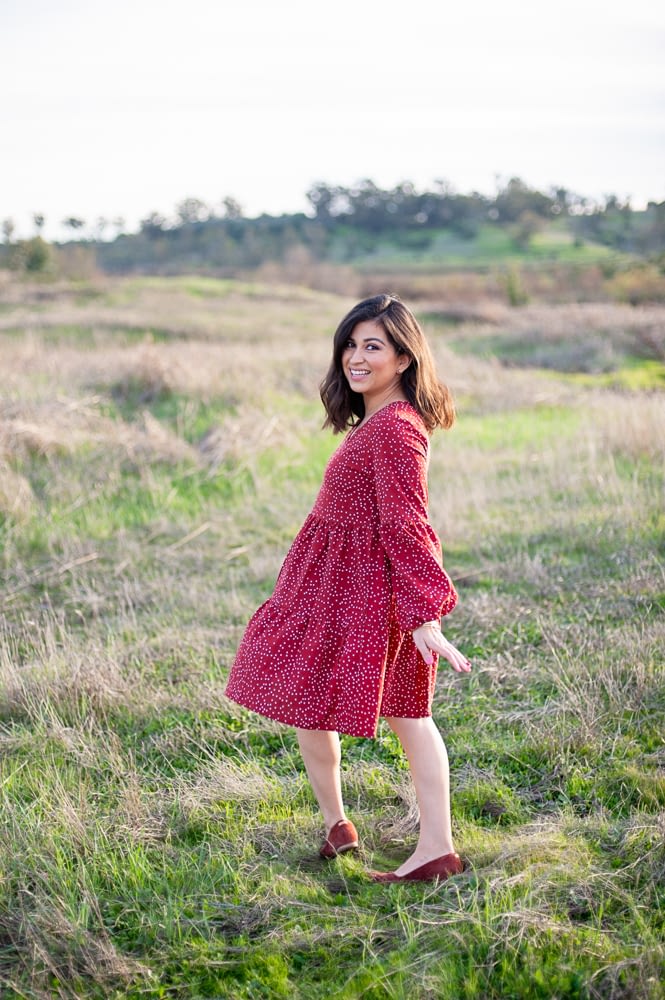 CHOOSE THE RIGHT OUTFIT OR DRESS!!
This dress, on the left, is a great choice to hide unwanted attention. Additionally, it's fun having a skirt to play with! Not to mention.. flattering bubble sleeves! 
Did you notice that this is the second time I've mentioned clothing. It's THAT important!
HOW TO FLATTER YOUR FACE
AND
TO MAKE SURE YOUR CHIN LOOKS AWESOME!
Above all things, I could not stress MORE about this tip! It's probably one of the most important tips in this 5-day posing guide. This is as important as the 45° twist and the choice in attire. 

This tip can help conquer the double-chin problems. So what do you need to do? 
Make sure your energy and weight is always shifted toward the photographer slightly. Meaning, never stand too tall
And
NEVER SHIFT YOUR WEIGHT BACKWARDS – LEANING AWAY FROM THE CAMERA!
Remember this example?
ENGAGING VS. NOT ENGAGING THE CAMERA…
WHICH ONE LOOKS BETTER?
EVEN IF ITS A SMALL CHANGE, IT'S A GREAT ONE!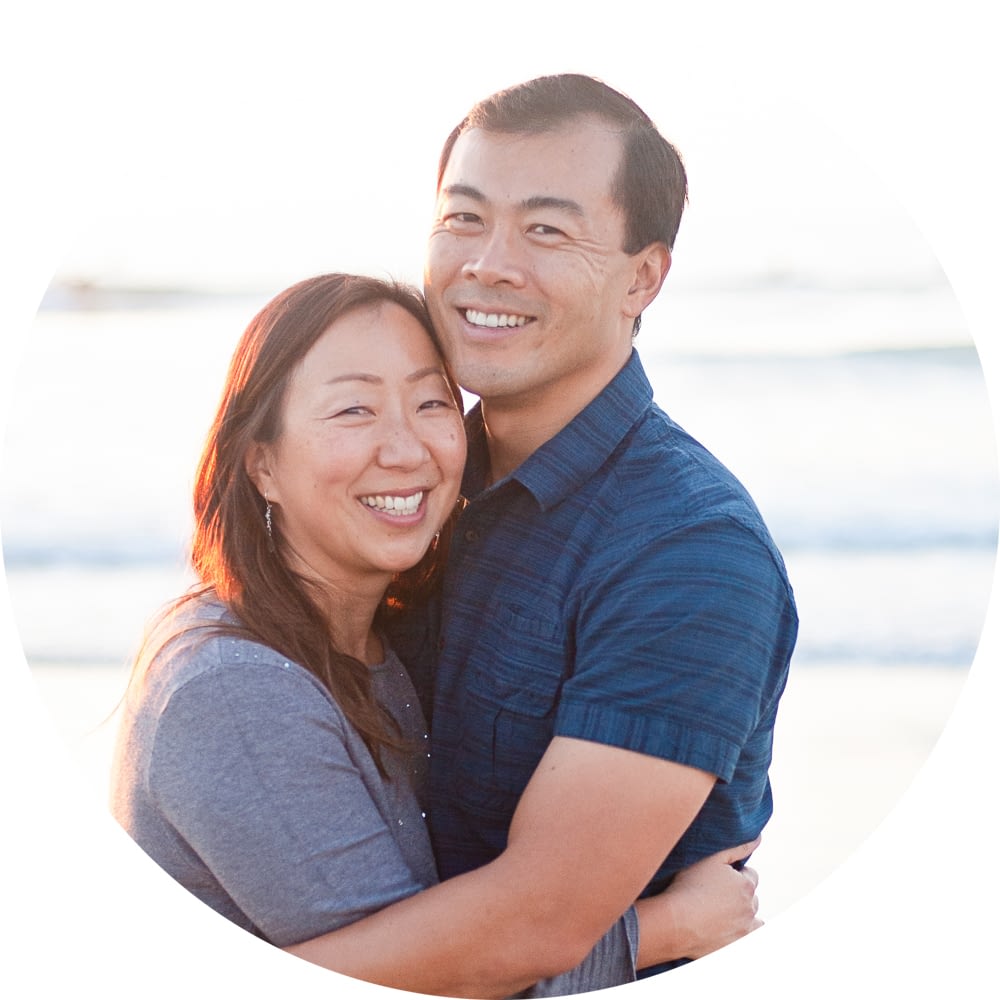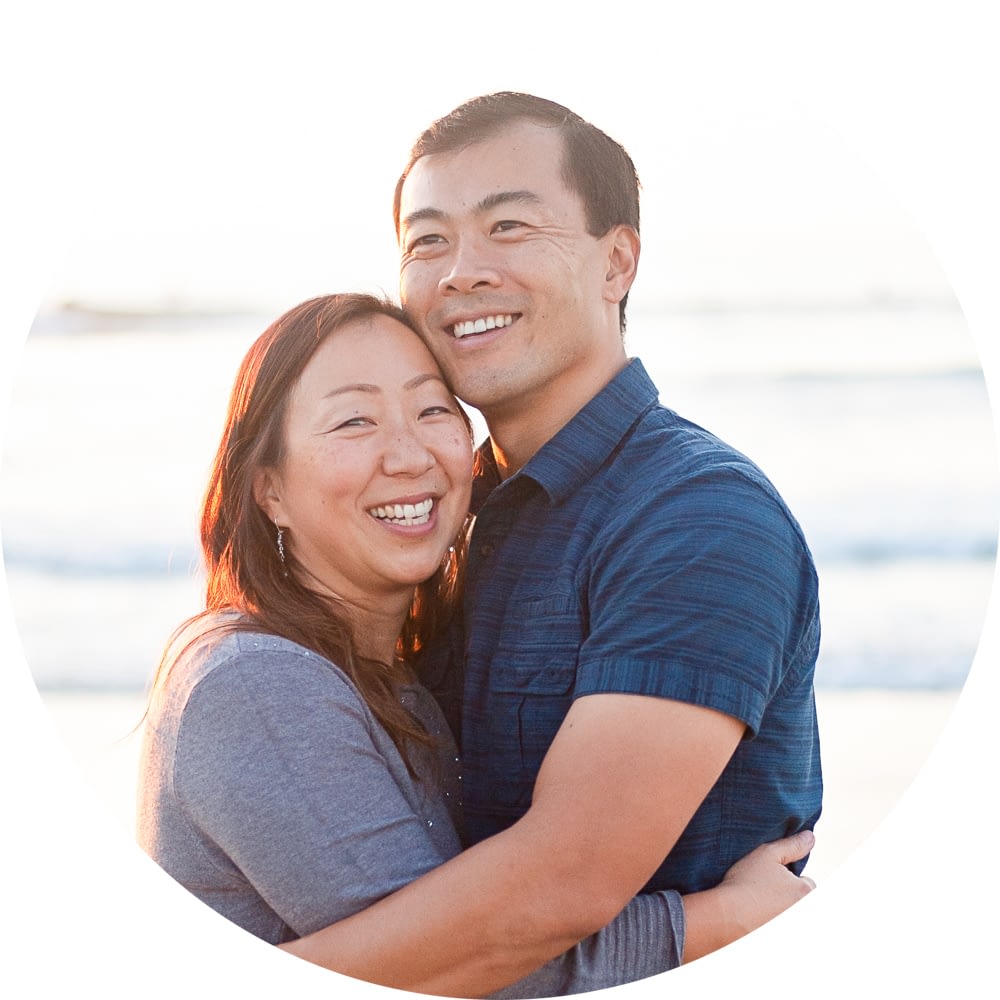 I promise this is the last thing but… an extra tip about your chin… push your chin out a bit – versus pulling your chin-in/back.
Don't drop your chin against your chest but always lift it up just a tad. In all things, don't over exaggerate – and if your photographer corrects your head position, just listen! Also, sometimes, just turning your head a little to the side – a tilt, helps get rid of that pesky double chins
That's it for day 3 of our posing guide!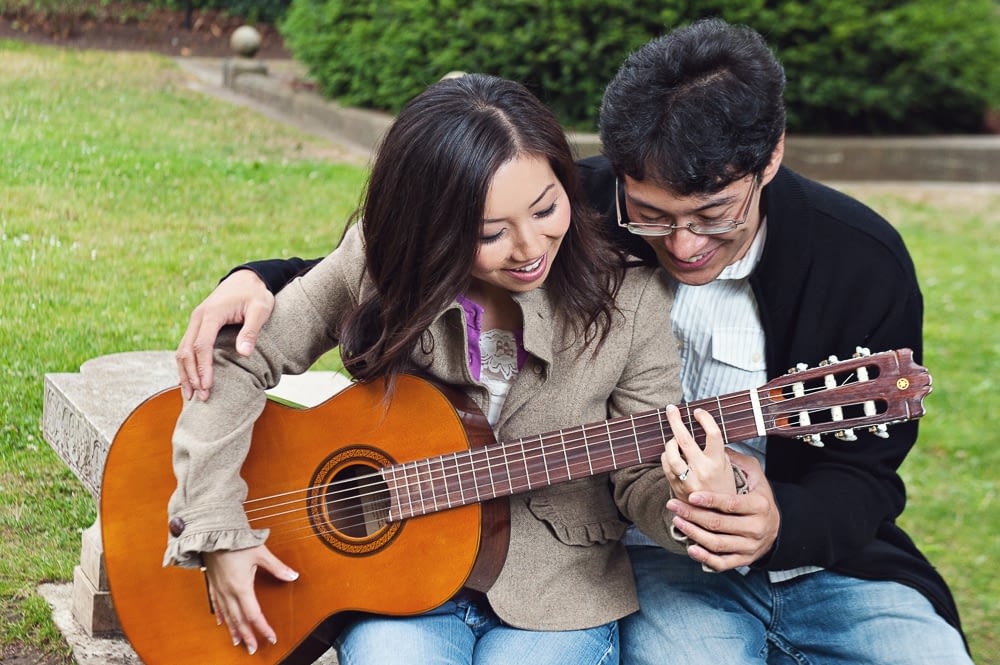 DAY 1
OF OUR 5-DAY POSING GUIDE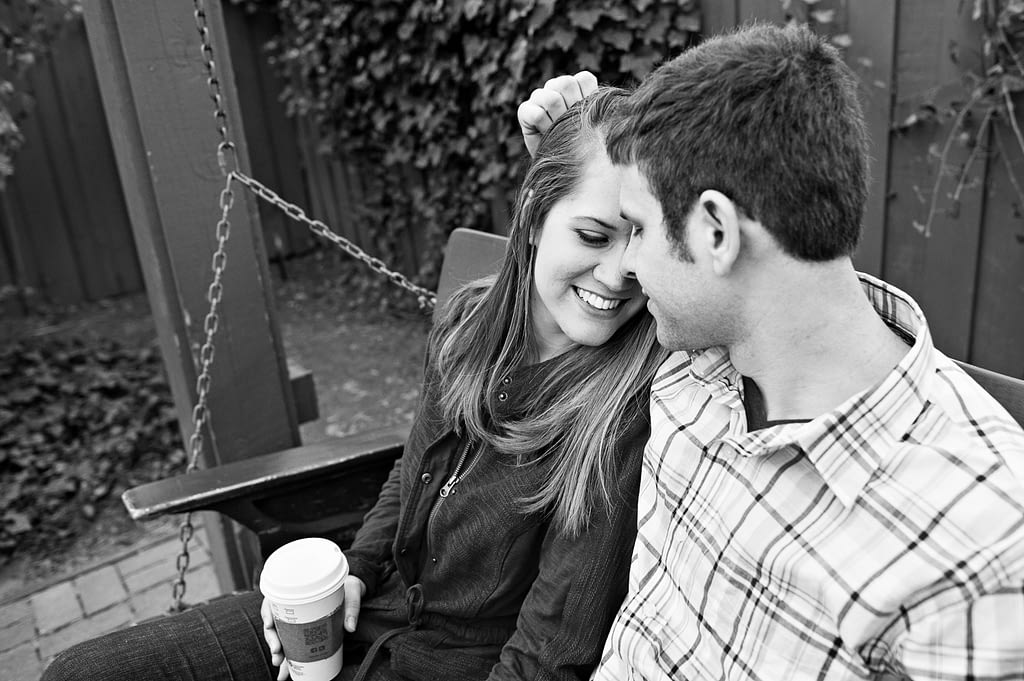 DAY 2
OF OUR 5-DAY POSING GUIDE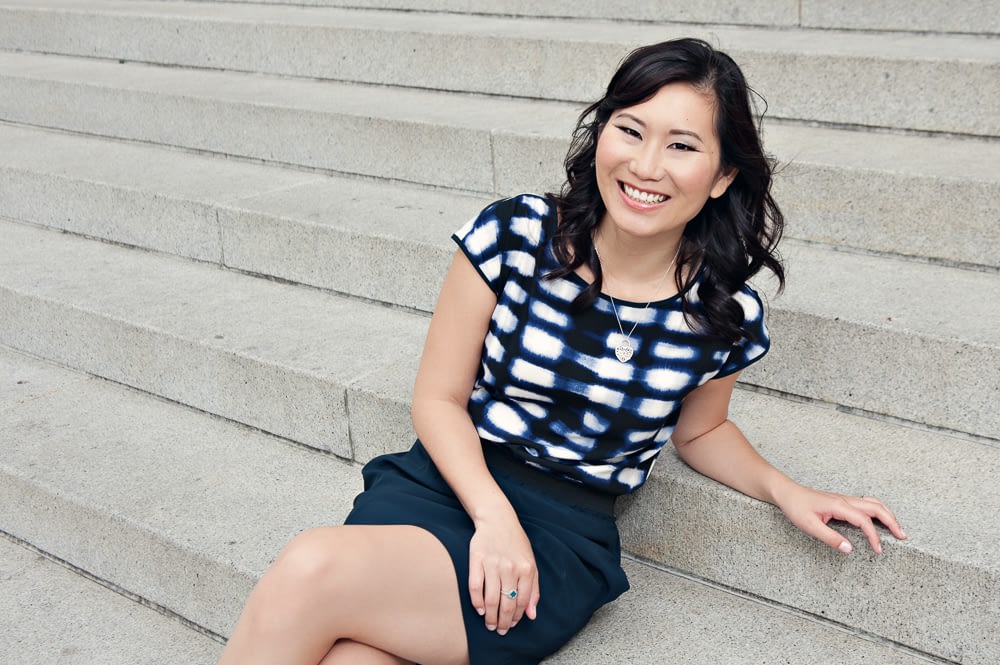 HOW TO LOOK YOUR BEST DURING YOUR ENGAGEMENT SESSION
I am a multi-published, true-to-color photographer, believer, wife to an awesome multitalented husband and a mother to two boys and a little girl!
I love people and I love creating life-long relationships with those I work with! Those who have become good friends know that they could always drop by our place and expect to be taken care of like family!
I have been in front of the camera since I was born. My father was once a professional photographer. But, the point where I started loving photography was when I was selecting photos for my wedding. I didn't appreciate the beauty of my childhood photos until I was choosing photos to show for our wedding slideshow! And, compared to my husband's photos, mine were so beautiful! I wanted the same for my kids! All I wanted was to give them memories and photos that they could cherish when they are all grown up! Who knew that would lead me to a professional career. 
Fast forward 20+ years, I have 3 kids (as of 2020 – 6,4 & 2). I'm a SAHM of the two younger ones and I enjoy watching them grow, everyday, and try, my best, to document it as much as I can!
That's me in a nutshell!